How China's New Expat Grading System Will Work

2017 China Foreigner's Work Permit


_________________________________________________________________________________________________________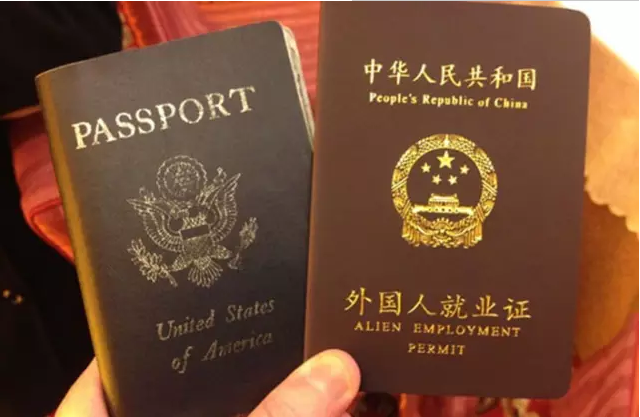 As we reported on That's last month, China will begin ranking expats according to a grading system.

The scheme will classify workers into three categories according to a point system: 'A' for top-tiered talent, 'B' for professional talent and 'C' for unskilled workers or those working in the service industry.

The system will be rolled out from November to April out in major cities like Shanghai, Beijing and Tianjin, as well as Guangdong, Hebei, Anhui, Shandong, Sichuan, Ningxia and other areas. It will be implemented nationwide by April 2017.

New permit cards will be issued after the pilot program is completed in April, which include the worker's identification number, photo and name. The new work permit card will serve as the legal credential for foreigners to work in China, rather than the standard employment permit and foreign expert certificates.

China's new work permit card may look a lot like the elusive "Permanent Residence Card."



With the system set to launch in some places next week (November 1), more details have begun to emerge on how it will work. Here's a quick rundown of what to expect from the new grading scheme.

Point System

According to the Shanghai Municipal Human Resources and Social Security Bureau, foreigners not meeting certain "automatically-qualifying requirements" (detailed further down) will be graded by a point system. Points will be given based on qualifiers such as education background, work experience, salary, Chinese-language (HSK) level, age and location. The point system is as follows:

A-rating (Foreign High-end talent): Above 85 points
B-rating (Foreign Professionals): 60-85 points
C-rating (Ordinary Foreign Personnel): Below 60 points

one user shared an image of what appears to be a trial version of the point system sheet in English. While the image is unconfirmed, it does seem to match the requirements listed by the Shanghai government on their Chinese-language website.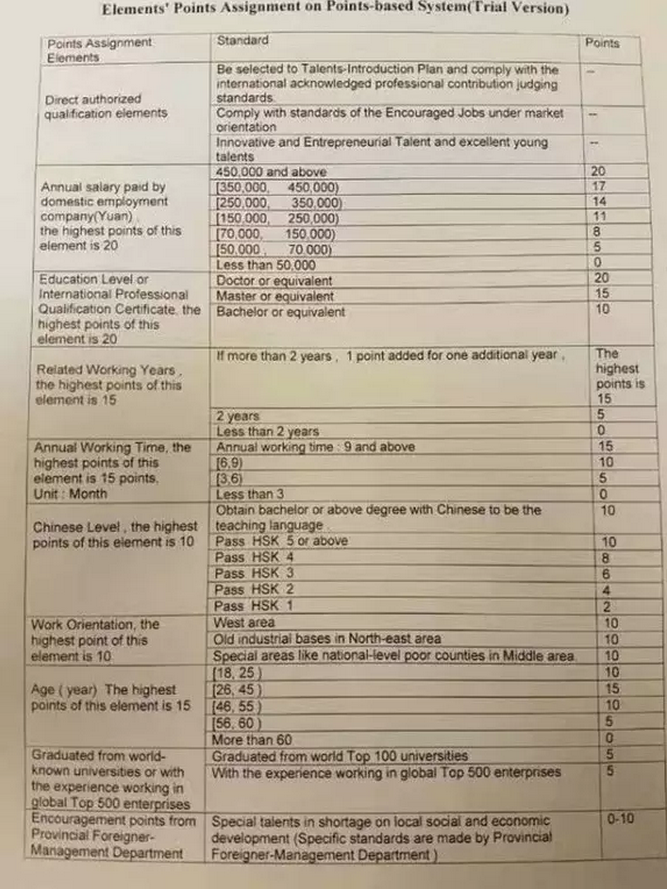 Automatically-qualifying requirements
If you fulfill any one of a certain list of requirements for a specific category, then you won't need to worry about the point system. In other words, if you don't meet any of these "automatically-qualifying requirements," then you'll be ranked according to the point system instead.

Here are just some of the qualifications that can automatically put you in the A or B-Level categories:

A-Level Foreigners: auto-qualifying requirements
- Winner of certain awards in the fields of academia, business, arts, entertainment or sports. (Nobel Prize Winners and Olympians meet this criteria).

- Holder of a high position in the fields of academia, business, entertainment or sports

- Holder of a position of a certain type of field where more foreign talent is needed due to the market situation

- 'Entrepreneurial' and/or 'innovating' talent

- Young and outstanding talent under 35 years of age with a degree from a Top 200 university or holder of PhD or higher from a Chinese University

- Former top management professionals at Top 500 companies or large international financial firms

B-Level Foreigner: auto-qualifying requirements
- Bachelor's degree and two years of work experience in various fields

- Previous work experience from a long list of certain international organizations

- Holder of a Masters degree from a Top 100 international university

- Outstanding graduates with Masters degrees or higher from a Chinese university

- Foreign language teachers who teach in their native language and have both a Bachelors degree from a country where the primary language is their native language and two years of work experience in education. Teachers are exempt from the two years experience requirement if a) the degree they hold is in either a language-related field or teaching, b) they qualify as a teacher in their home country or c) they hold a Teaching English as a Foreign Language (TEFL) certificate.

Work Permit Card Application
According to the Shanghai Municipal Human Resources and Social Security Bureau, the procedure for the new work permit card application system will take 20 working days.

In order to process the permit, the following materials will be required: application form, job-related qualifications, certificate of education, proof of no criminal record, health examination report and employment contract.

All A-Level foreigners will be approved, as there is no limit on how many of them can be issued permits. B-Level foreigners will be limited according to market demand and can be no older than 60 years of age. The number of C-Level foreigners may be restricted based on the relevant regulations of the state.